By Elinor Frisa
Research is a constant at Virginia Commonwealth University. It's always humming in the background no matter the time of year, or whether we're in the midst of a pandemic. It takes place in every corner of the university, but it also takes place out in the world. So much of the research at VCU is public impact research — seeking to solve today's toughest issues, from opioid addiction to climate change to racial inequities.
In fiscal year 2021, VCU's sponsored research funding reached an all-time high of $363 million, a 25% increase over the previous three years, and this summer VCU launched a new strategic research priorities plan to help further enrich the human condition. There is so much research happening that it can be hard to keep up. Below is a sampling of some current research representing a wide swath of disciplines.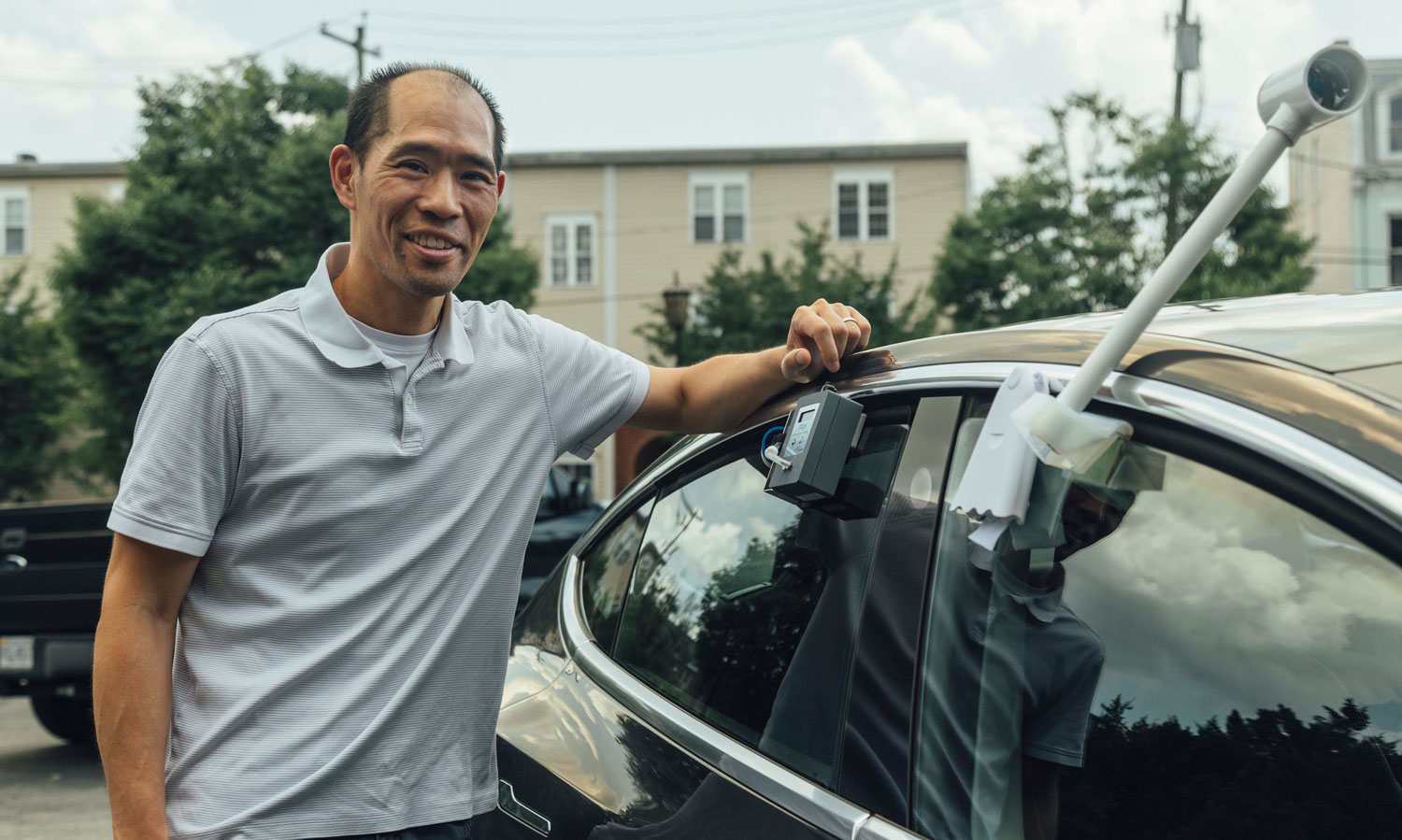 In the hottest parts of the city, how polluted is the air?
Important new data is being added to the heat vulnerability map of Richmond that chemical and life science engineering professor Stephen S. Fong, Ph.D., helped create several years ago. Fong and collaborators and volunteers from the Science Museum of Virginia, the University of Richmond and various Richmond-based organizations are expanding the map by adding measurements of two forms of air pollution: particulate matter — tiny pieces of soot and other contamination — and ozone. Read more about studying Richmond's air pollution.
Exploring racial inequality in Virginia during COVID-19
Elsie Harper Anderson, Ph.D., an associate professor of urban and regional planning in the L. Douglas Wilder School of Government and Public Affairs, is studying the pandemic's disproportionate impact on Black workers and businesses by analyzing industry trends, unemployment data and business performance metrics by race using data from the U.S. Bureau of Labor Statistics, the Virginia Employment Commission and other government agencies. Read more about Anderson's research into COVID-19's economic repercussions for African Americans.
Using improv techniques to help individuals affected by homelessness
Elizabeth Byland, head of improv with the VCU School of the Arts Department of Theatre and director of applied health improv with the Center for Interprofessional Education and Collaborative Care, is exploring how improv can help reduce the stigma of homelessness among health care practitioners by increasing empathy. Read more about Byland's improv project.
Testing a treatment to mitigate coral bleaching
Coral reefs are in danger as the ocean heats up, but College of Engineering researcher Liza Roger, Ph.D., is developing a strategy using nanotechnology to save them. Read more about Roger's coral bleaching research.
How a VCU economist's project provided essential data early in the pandemic
Business professor Adam Blandin, Ph.D., helped create the Real-Time Population Survey to get faster labor market data during the pandemic, information that was sorely needed by policymakers as the pandemic affected the economy with stunning speed. Read more about the Real-Time Population Survey.
Sharing their stories: Researchers are studying Horn of Africa migrants in Greater Washington
The research of social work professor Miriam Kuttikat, Ph.D., is shining a light on the challenges facing migrants and refugees from Somalia, Eritrea, Ethiopia and Djbouti. Though they are a significant Black migration population in the Washington area, there is a gap in providing mental health and health support services because these populations have been understudied. Read more about Kuttikat's migrant research project.
Amid a worsening opioid crisis, VCU's MOTIVATE Clinic is delivering results
Current studies at the Multidisciplinary Outpatient Addiction Treatment (MOTIVATE) Clinic, which provides integrated care to more than 400 patients a month with substance abuse disorders, include assessing safe medication storage practices among parents; testing whether an insomnia drug can help with side effects caused by another drug used to treat opioid use disorder; and examining the effect of chronic opioid use on the collection of bacteria in people's guts. Read more about the MOTIVATE Clinic.
Supporting humanities research and collaboration among scholars
The Humanities Research Center supports the research efforts of faculty and graduate students in many ways, such as by offering nine research and working groups that bring together faculty and graduate students from different departments to study topics like critical environment thought and LGBTQ studies. It also offers annual residential fellowships organized around a central theme: This year's is "Race, Ethnicity and Social Justice." Read more about what the Humanities Research Center does.
A research gem for the river
The newly opened Rice Rivers Center Research Facility provides VCU students, faculty, staff and research partners who study river ecosystem topics at the 474-acre property with lab and collaboration space to analyze samples and data collected on-site. They can even pump water directly from the James River into the labs, providing a controlled environment for a range of discoveries. Read more about the new research facility.
Cracking the code for resilience
Why are some people better able to cope with stress and trauma than others? Psychiatry professor Ananda Amstadter, Ph.D., and colleagues are using data from one of the Virginia Institute for Psychiatric and Behavioral Genetics' twin registries to study how much influence DNA has on a person's resilience. Read more about Amstadter's findings.
New study aims for early detection of autism to help patients thrive
Two pharmacy professors are embarking on a study of humans' genetic makeup that will involve completing one of the largest and most thorough scans of the methylome, the set of chemical instructions that regulates the activity of human genes. The aim of their work is to be able to identify infants who have high risk of developing autism so they can receive early care that could help them thrive. Read more about the genetic research.
Transplant research expands organ access and supports lower-income patients
For the past few years, researchers at VCU Health's Hume-Lee Transplant Center have studied a unique process that allows transplant teams to safely and effectively transplant kidneys from hepatitis C-positive deceased donors into recipients who do not have the disease. This gives more people who need one a chance of getting a kidney during a national organ shortage. Read more about VCU's unique protocols and the research that went into it.
Pregnant individuals experiencing depression will have access to mindfulness activities through a VCU study
Nearly 20% of women experience depression during pregnancy, but their condition often goes untreated. Two professors from the School of Nursing and the College of Humanities and Sciences are conducting a clinical trial to gauge the effectiveness of mindfulness activities and social connectedness, both of which are low-cost, easily accessible interventions that don't require a prescription. Read more about the project and how it serves Richmond's minority, low-income or low-education community members.
Antimicrobial wipes in health care: how effective are they?
Researchers from the College of Health Professions and the School of Medicine are evaluating the efficacy of PDI Super Sani-Cloth and PDI Sani-Cloth AF3 germicidal disposable wipes to decontaminate lead aprons used in the radiology department at VCU Health, as well as Apple iPad tablet cases used by medical laboratory sciences students during class sessions and clinical rotations in the hospital. Their goal is to inform best practices on how to keep patients, and the health sciences students who are learning to treat them, as safe as possible. Read more about their sanitization study.
Project PEACE aims to support employment of youth with intellectual and developmental disabilities
Led by School of Education researchers, Project PEACE (Promoting Employment After high school through Community Expertise) seeks to build community capacity to sustain employment opportunities for youth with intellectual and developmental disabilities in Richmond and Colonial Heights. The team anticipates around 50 students, 50 families, 15 businesses and up to 25 school personnel will participate in the project, and between 24 and 35 youth with intellectual and developmental disabilities are expected to find paid employment. Read more about Project PEACE.
A half-century of research: A look at the legacy of learning behind VCU's longest funded training grant
This summer a five-year grant from the National Institute on Drug Abuse to VCU's Department of Pharmacology and Toxicology addiction training program was renewed for the 10th time, ensuring continuous funding through 2026 and making it both the National Institute on Drug Abuse's and VCU's longest funded institutional training grant. Read more about the program and the research it makes possible.
Study discovers unique brain signature of intimate partner aggression
A new study led by psychology professor David Chester, Ph.D., used functional magnetic resonance imaging to examine the brain activity of 51 male-female romantic couples as they experienced intimate partner aggression in real time. They found that aggression toward their partners was associated with aberrant activity in the brain's medial prefrontal cortex. Read more about their research on intimate partner aggression.
Findings of a VCU study reveal the true burden of the hidden pandemic of fatty liver disease
A longitudinal national study led by Arun Sanyal, M.D., shows that people with advanced liver scarring caused by obesity, diabetes and related disorders are dying of liver disease. Many people believe that only excess alcohol consumption causes liver diseases and may not realize they have nonalcoholic fatty liver disease or are at high risk for it. Read more about how the findings create a road map for future treatments of the disease.
Medicines for All Institute drives down production costs of investigational pill to treat COVID-19
The Medicines for All Institute in the College of Engineering has developed low-cost manufacturing processes for molnupiravir, the first investigational pill to treat COVID-19. These processes are available to any manufacturer. Read more about how this work will expand global availability of the antiviral drug.
Those under 40 more likely than older adults to recover COVID-related smell and taste loss
Using an ongoing survey, researchers in the Smell and Taste Disorders Center at VCU Health have found that sense of smell or taste returns within six months for 4 out of every 5 COVID-19 survivors who have lost these senses. Those under 40 are more likely to recover these senses than older adults. Read more about the research team's progress in understanding smell and taste loss and recovery.
Variants, misinformation, vaccine hesitancy
She didn't know it at the time, but social media and health communications expert Jeanine Guidry, Ph.D., in the Richard T. Robertson School of Media and Culture had been preparing for COVID-19 for years. Guidry's work particularly focuses on effective public messaging in a health crisis. Amid the pandemic, she has been a leading researcher into misinformation about COVID-19 and vaccines and how public health officials can best communicate about the deadly disease. Read more about how her work has pivoted to address COVID-19 communications.