The Wright Engineering Access Scholarship
VCU Engineering's Flagship Program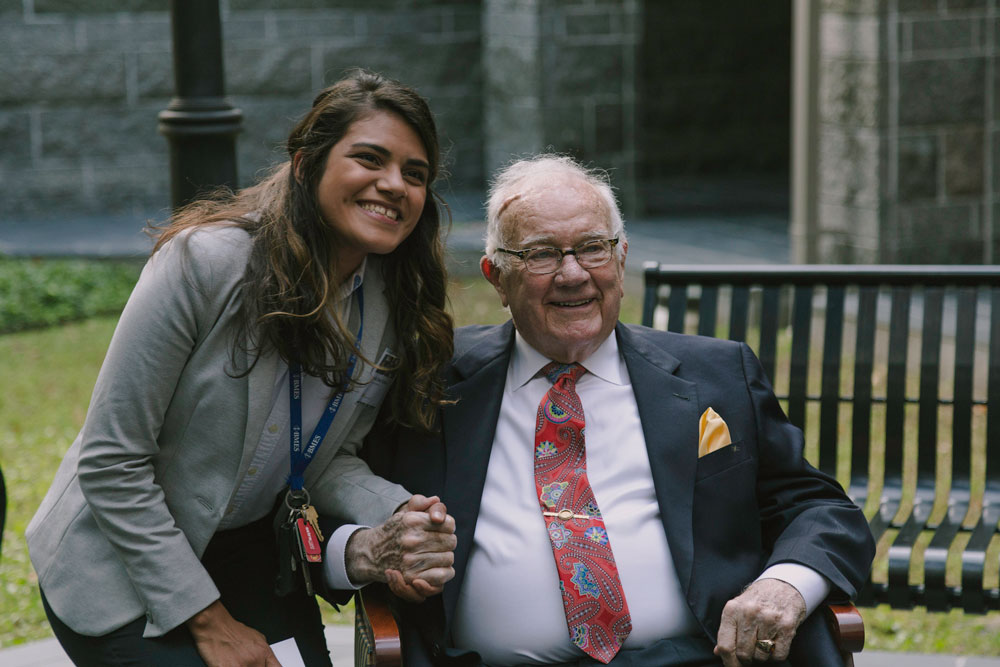 Jacqueline Chavez Orellana, a 2018-19 Wright Scholar, and founding benefactor C. Kenneth Wright
The mission of the Wright Engineering Access Scholarship is simple: Give students a way to earn a high-value engineering degree at a very modest cost.
VCU Engineering's flagship scholarship program gives need- and merit-based awards to a wide range of students, including nontraditional students and community college transfers. For many Wright Scholars, this award means being able to focus exclusively on academics without having to take on part-time jobs. When combined with internships and co-ops, this program can reduce — and even eliminate — the need for student loans.
Established with a generous gift from longtime benefactor C. Kenneth Wright (H.D.L. '11), the Wright Engineering Access Scholarship changes lives every year. Here are just a few of the students whose college experience was transformed by this opportunity.
Jordan Karim, Mechanical and Nuclear Engineering
During his senior year, Jordan Karim was finishing his degree in mechanical engineering with a nuclear concentration while working full time and caring for his four children as a single parent.
As Karim, a veteran and a member of the Army National Guard, put it: "Yes, I'm a little busy."
The Wright Scholarship gave him more time for his studies in his last year.
It also put him in a more secure financial position to pay for his children's education — which may include engineering school for his middle daughter.
"She has been saying she wants to be an engineer, and in a recent conversation about the Tooth Fairy she told me that 'opinions are not evidence,'" Karim said. "I knew at age 10 that I wanted to be an engineer, too."
Brandon Watts, Computer Science
First-generation college student Brandon Watts grew up in a home without internet. He nearly didn't go to college — "I was looking at going into the military for a few years to pay for school," he said.
A Theory of Computation class during his sophomore year led him to computer science. "I had never programmed before I came to college. I never saw computer science as even something I was able to do. A lot of people in my major are like, 'Yeah, I've been doing this since I was 12 years old,' and went to technical schools, stuff like that. I never had that experience."
Watts poured himself into his studies, making the dean's list and carrying a 4.0 GPA into his junior year. He completed a summer software developer internship at CarMax and hopes to pursue an advanced degree and start a company in data science or machine learning.
Cara Brooks, Biomedical Engineering
Biomedical engineering major Cara Brooks, a first-generation college student, knew that the Wright scholarship would enhance her last two years at VCU.
"I was working two jobs," she said. "This means that I can take more classes and participate on a Vertically Integrated Project team."
For Robert Jackson, Brooks' father, her success in engineering was no surprise. "Over the years, Cara went through every science kit and chemistry kit I could find," he said.
Brooks said, "I discovered a passion for helping others and became interested in medicine, developing technologies and medical innovation." At VCU Engineering, she got a chance to do lab research as an undergraduate student and completed an internship at Johnson & Johnson.
Her father said, "This scholarship is a wonderful opportunity for her. All those math books paid off!"
Meet the first Wright Scholars